Robotics and Embedded Systems Training in Bhopal| Embedded Systems Robotics Projects in Bhopal | Embedded Systems in Robotics Applications Indore
Arist Automation has specially designed a job oriented program for freshers and job seekers. Working professionals provide the training. All their working professionals have rich industrial experience with 10-15 years and they guide their candidates with the best knowledge. Various Robotics and Embedded Systems Training in Bhopal provided by them are Industrial Robotics, Robotics Process Automation, embedded system design, Embedded System and Circuit Design, Embedded System, and Process Automation.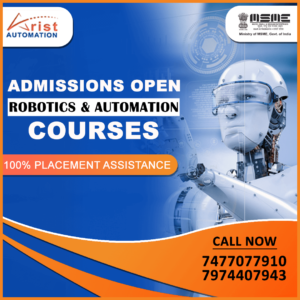 Robotics and automation have been a growth area for industry from robots used for manufacturing, intelligent vehicles, space exploration, military, aerial surveillance, rehabilitation, and industrial applications. The field involves system integration and requires many different areas of expertise including strong knowledge of programming kinematic and movement algorithms, electronics and circuits, and control systems and stability necessary to develop robotic systems. Students will be exposed to various robotic application areas and will develop basic knowledge in software, electronics, and industrial control useful in many areas.
Robotics and Embedded Systems are used extensively in modern technologies, including automotive, image processing, 3D printing, and healthcare devices, as well as real-time critical systems and search and rescue operations.
The robotics and embedded systems particularly in the "perception-action, continuous learning, decision making, social intelligence" loop, localization as well as embedded systems and System-on-Chip design and processor architectures targeted for cyber physical systems, automotive/industrial systems, computer vision, data analytics, Internet of Things and real-time critical systems.
Arist Automation Embedded systems applications Robotics Training. It applies multi-tasking, biomedical systems, industrial controllers, mobile & smart phones, computing systems, electronic smart weight display systems,s, and entertainment systems. Embedded systems can be used in many real-time applications such as automobiles, robotics, industries, etc. The following real-time projects are related to robotics technology.
The term "Embedded" refers that this intelligent system is an integral part of some large system with hardware and mechanical parts, to perform some specific task. Since the embedded system is dedicated to specific tasks, design engineers can optimize it to reduce the size and cost of the product and increase its reliability and performance. Today embedded system is found in almost each and every electronic device we are using in day to day life