Industrial automation online course | Live Online Industrial Automation Training | Best Industrial Automation Course in Madhya Pradesh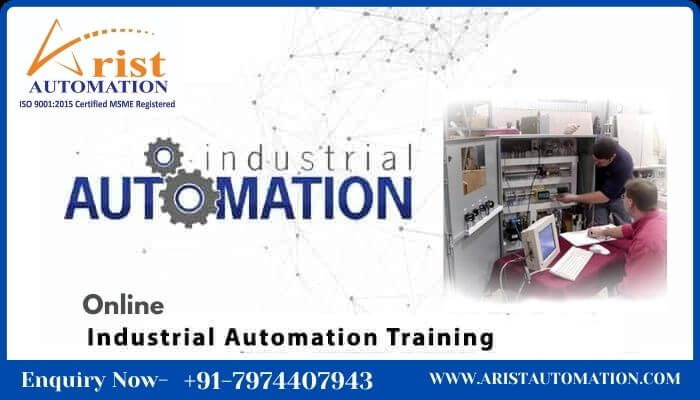 You Can Access The Live Online Training Through Our Web-Based Platform From Your Own Computer. You Can See And Hear The Instructor And See His Screen Live.
Arist Automation Industrial Automation course is designed to empower students with the foundation and intermediate level of knowledge that will help them to understand the three key modules of Industrial Automation: PLC, SCADA, and DCS.
Industrial Automation is rapidly growing in Power sector, Automobile, Oil and gas, Manufacturing, Mining, etc. Process Automation provides the technology to control and monitor the process in industrial plants using concepts such as advanced process control.
Arist Automation online industrial automation course in PLC Automation provides industrial automation knowledge based on industrial projects which can open many extra job profiles for the trainees, in core industries. It also covers Industrial Automation, Advantages of automation, Automation history, PLC and programming candidate can apply for Automation Profile at the end of the course.
Arist Automation program offers instruction in a wide range of applications and practical examples of automated manufacturing, including both theory and function of digital and industrial electronics, hydraulics/pneumatics, robotic systems, programming languages, and alarm management. The three main areas of study in the program are electro-mechanical systems, programmable logic controllers (PLCs), and robotics. The program also offers instruction in distributed control systems (DCS) and SCADA systems. The online course material is delivered using a combination of theory and labs which feature state-of-the-art simulation software (LogixSim). LogixSim is a suite of software products that include electronics, PLCs, and robotics simulations.
• Programmable Logic Controllers
• Supervisory Control & Data Acquisition
• Motion Control ( Drives & Motors)
• Panel Designing& AutoCad
• Process Instrumentation
• HMI (Human Machine Interface)
• Industrial Networking
• Distributed Control System
The engineers who have commendable knowledge in Industrial Automation are hired for the roles of:
Embedded Design Engineer, 
PLC Programmer, 
Automation Test Engineer, 
SCADA Engineer,
Automation Engineer, 
Controls Engineer and Industrial Engineer. 
Graduates Who Like To Gain Skills To Become An Automation Engineer
Electrical And Instrumentation Specialists Who Would Like Develop Their Career In Industrial Automation Field
Beginners Want To Learn The In-Depth Concepts Of Automation Technology And Become A Master Of Industrial Automation Concepts
Automation Engineers Who Would Like To Know About The Other Key Developments In Industrial Automation
Experienced Engineers Who Want To Upgrade Their Knowledge And Skills And Learn About Trending Technologies
Engineering And Electrical Plant Specialists Who Are Looking For A Course That Can Help Them To Learn Industrial Automation In An Easy And Efficient Way
This Is A Practicalcourse With Lots Of Examples Provided By An Expert In The Field Of Industrial Automation And Control Systems
This Industrial Automation Training Course That Helps Participants Understand And Master The Concepts Of Process Automation, DCS, PLC, SCADA, MMI/HMI
On Successful Completion Of This Control Systems Training, Students Will Be Ready To Attend And Succeed In Interviews For DCS/PLC Programmer Positions
This Course Is Conducted By An Experienced Professional Who Has A Wide Range Of Experience And Is A Subject Matter Expert In Process Automation