Industrial Automation Internship in Madhya Pradesh AICTE / RGPV approved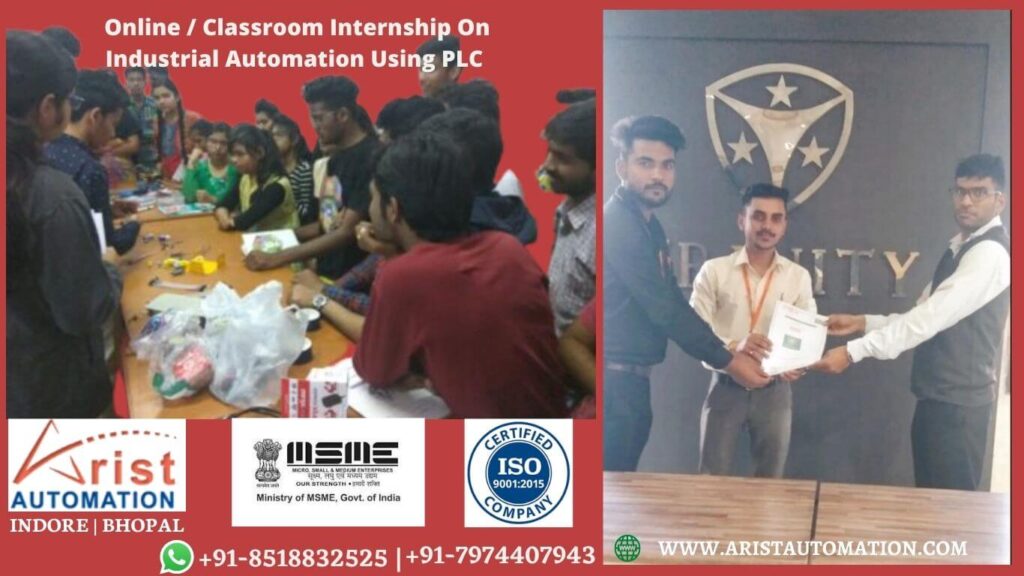 Arist Automation provides Industrial Automation Internship in Madhya Pradesh AICTE / RGPV approved center that provides opportunities for Mechanical / Electrical & Electronics. The faculty in the institute is highly professional with industry exposure and finds solutions of the industries particularly MSMEs. The students get an opportunity for an internship program with creative ideas and knowledge. Industrial Automation, 𝗘𝗺𝗯𝗲𝗱𝗱𝗲𝗱 Systems & Robotics Internet of Things (IoT), Control Panel Designing, HVAC Design 𝗮𝗻𝗱 𝗗𝗮𝘁𝗮 𝗦𝗰𝗶𝗲𝗻𝗰𝗲 𝗨𝘀𝗶𝗻𝗴 𝗣𝘆𝘁𝗵𝗼𝗻. of interns can work in different areas in Mechanical and Electrical & Electronics.
Arist Automation MOU signed for skill development program with SAGE University Indore, SAM Global University, Sagar Institute Of Research and Technology, NRI Group Of Institutions, Vist Institute. Arist Automation ISO and MSME Certified Institute Provide Industrial Automation Internship in Madhya Pradesh AICTE / RGPV approved. Live Projects with Experts and Certification on Completion. Arist Automation is focused on skill development and trains the students for Industry.
Industrial automation is a set of technologies that uses control systems and devices, Industrial automation eliminates the possibility of human error, reduces costs, saves time, and achieves higher performance.
Module 1 : Instrumentation & Electrical Concepts
Introduction to Instrumentation, Basic types, usages
Digital sensors, specifications, wiring concepts
Analog Sensors – temperature, types, and installation techniques
Basic Electrical Panel components, standards, identification
Contactors & Relays, industrial wiring standards, NEMA & IEC
Designing control wirings of Industrial Process
Module 2 : Automation Fundamentals & PLC
Automation introduction, types, concepts, industrial usages, Analysis
Components of Automation, explanation – PLC,SCADA,HMI,DCS
Programmable Logic Controllers, brief, architecture, features
Components of PLC – Power / CPU / I-O Modules / Rack
Programming PLC – Ladder Language, design & Creating control circuits
Overview of Allen Bradley – Micro PLC
Module 3: PLC Programming
AB PLC programming, Logic building, Software implementation
Basic relay-based instructions, techniques, examples for practice
Practical examples of Industrial Process
Timer instructions, know-how, working & explanation
Compare instructions
Counter Instructions and its practical usages
Module 4: SCADA
Introduction, features, types, advantages
Software know-how, screens development, Tags creation
Alarms & Trend configurations, advantages & industry use
Reserve Day for any leftovers
Final real-time project & Objective type Test
After Training You Will Get
Certified Training you will be awarded MSME and ISO certificate of completion.
Industrial Project Design simple projects to implement the concept learned.
Get Experience Your training is packed with assignments, assessment tests, quizzes, and exercises.
Placement Training Get complimentary access to placement training to find your internship/job hunt.
✔️ 2000+ Placements
✔️ 8+ Years Rich Experience
✔️ 2500+ Engineers Trained in Academia, Corporate & Job Working
✔️ Trusted Training Partner for MSME & ISO (Govt. Certified) reputed Organizations
✔️ RGPV / AICTE approved center
✔️ 20+ Industrial Tie-ups
Online Live and Classroom Training Available
Enroll Now: https://bit.ly/AristAutomation